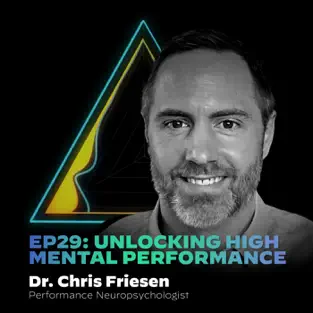 The Ultrahuman Podcast #29 Unlocking High Mental Performance with Dr. Chris Friesen
#29 Unlocking High Mental Performance with Dr. Chris Friesen
The Ultrahuman Podcast
Performing at high stakes isn't easy. Mental toughness can go for a toss and keeping calm and having composure can become an issue. We certainly need help to train our minds to deal with pressure efficiently. In today's episode, Dr. Friesen shares how we can go about this. He equips us with handy tools and tips for us to implement and execute in our daily routine. We hope you find this extremely useful. Become a Cyborg today.
Instagram – https://www.instagram.com/ultrahumanhq/
Twitter – https://twitter.com/UltrahumanHQ
Know more about our platform – https://www.ultrahuman.com
Dr. Friesen's book ACHIEVE is now available in Kindle format or paperback on Amazon.com and Amazon.ca OR in audiobook format through Audible.com or iTunes!
Listen on Apple Podcasts: https://podcasts.apple.com/ca/podcast/the-ultrahuman-podcast/id1609953342?i=1000577530837
https://drchrisfriesen.com/wp-content/uploads/2022/08/313x0w.webp
313
313
ChrisFriesen
https://drchrisfriesen.com/wp-content/uploads/2020/12/Friesen-Performance-Logo.png
ChrisFriesen
2022-08-31 16:56:06
2022-08-31 17:10:16
The Ultrahuman Podcast #29 Unlocking High Mental Performance with Dr. Chris Friesen